In September 2019, W3 held its 14th annual W3 Awards, hosted by the Academy of Interactive and Visual Arts, celebrating digital excellence and achievements across websites, marketing programs, apps, social content, augmented reality, and more.
This year, PopShorts was honored to receive three W3 Awards, one gold and two silver, for the "Instagram Search Party for Emily Nelson" marketing campaign created for the movie "A Simple Favor", starring Anna Kendrick and Blake Lively.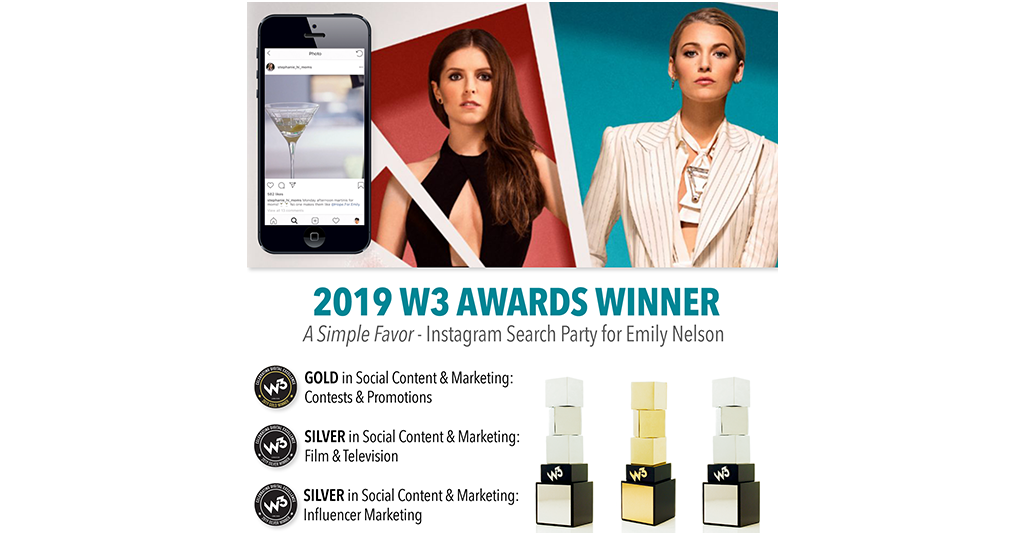 "It was a pleasure working with Lionsgate on this project," states Adam Gausepohl, CEO and Head of Creative at PopShorts. "This activation was an ambitious, first-of-its-kind social campaign that required Lionsgate to put a lot of trust in our vision. Their team understands the importance of creativity in order to stand out on social media and without their willingness to try new things, this massively successful campaign would never have happened."
As of this posting, the campaign has won nine awards, including two Shorty Awards for the Best Use of Instagram and Best Contest/Promotion, as well as Best Social Media Campaign from the Summit Awards.
To learn more about this award-winning marketing campaign, visit PopShorts – A Simple Favor.