Continuing Facebook's efforts to bring social audio experiences to the platform, the company is taking on the audio chat social network, Clubhouse, by adding its own version of Live Audio Rooms and podcasts to Facebook.
The new live audio features initially rolled out on June 21, 2021, to a select number of verified public figures and Facebook groups in the US. However, the features will be available to more public figures and groups within the coming weeks. While these new products are only available to public figures and select groups, every Facebook user in the US will be able to tune in to Live Audio Rooms and podcasts starting the week of the initial launch¹.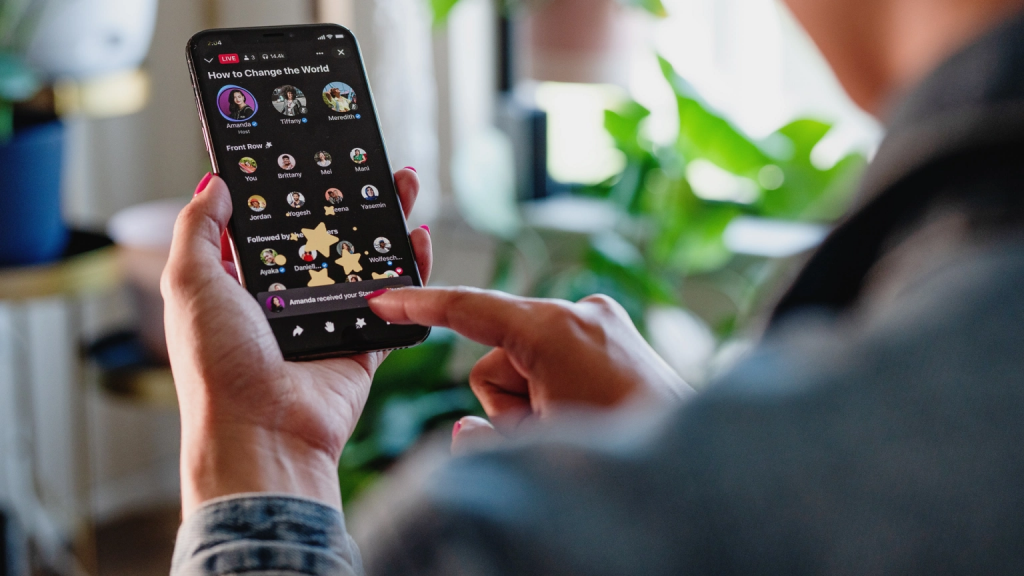 Photo by Facebook
What are Live Audio Rooms, and what should users know?
As previously mentioned, Facebook's new addition will mimic Clubhouse, which will allow users to join and listen in to live conversations of various diverse topics with public figures, experts, and other individuals regarding various topics².
Users can find this function from either the News Feed or notifications tab. Users can set up reminders for events they are interested in. The audio rooms will notify users once they go live. When a user joins a Live Audio Room, they will see the host at the top left of the screen, along with other speakers that the host has invited to speak. The number of speakers is indicated by a microphone symbol directly right of the live symbol. While in the rooms, options for captions and reactions will be available.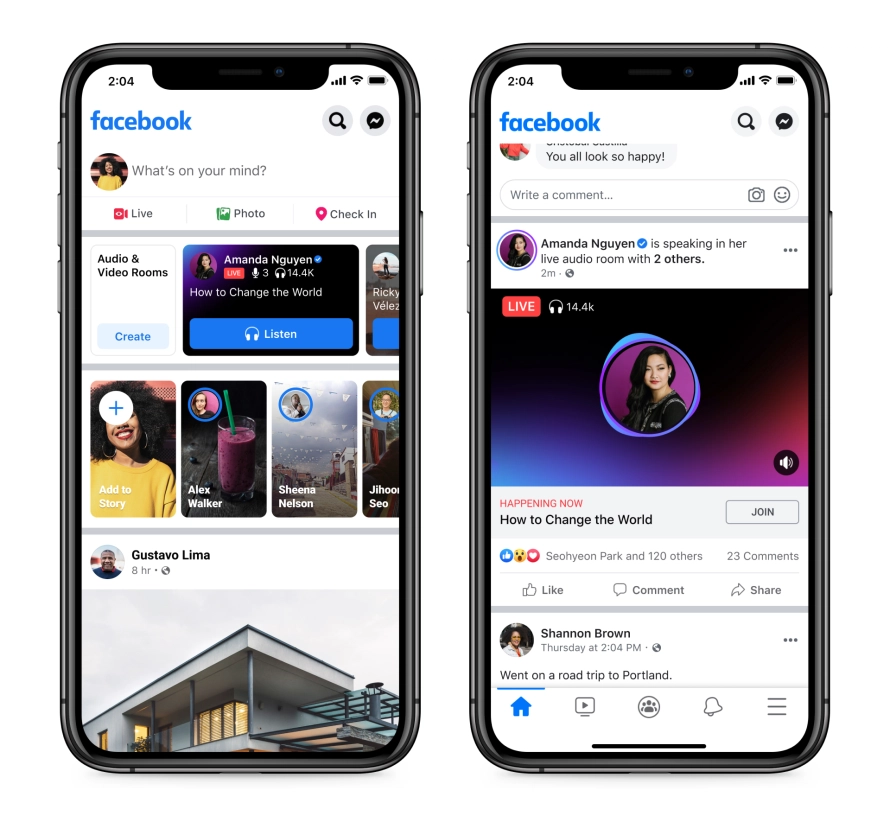 Photo by Facebook
When it comes to Facebook Groups, admins control who can create a Live Audio Room, which can be moderators, select group members, or other admins. If the Group is public, both members and visitors can tune in, but if the group is private, only members can join³.
For speaking purposes, public speakers are able to invite their friends, followers, verified public figures, or any listener to join them as a speaker. For now, the audio rooms cap speakers to 50 individuals with an unlimited number of listeners allowed. The number of listeners is indicated by a headphone symbol next to the speakers. 
Unique options on Live Audio Rooms
The audio rooms also grant hosts the opportunity to choose a nonprofit or fundraiser of their choice to support during the session. Speakers and listeners can also directly donate if they would like.
Complimenting the donations feature, Facebook has also created a way for users to show their support for speakers with "Stars." Listeners can pay for and send in Stars during the event, and they will gain benefits by moving to the "front row," which is a section where speakers can see and recognize their supporters.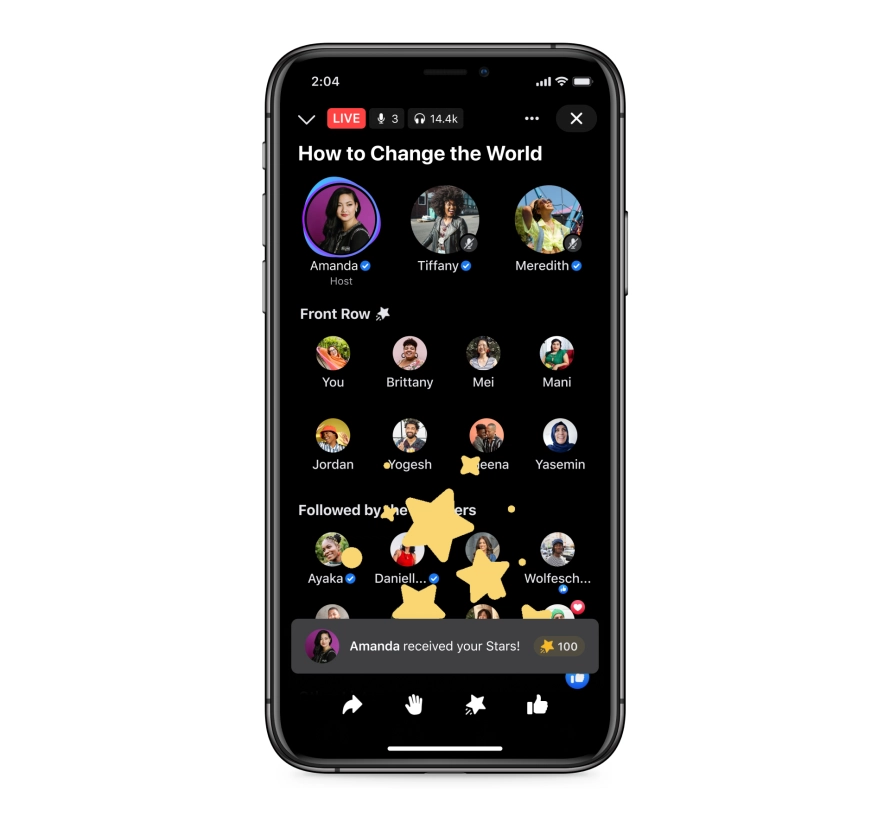 Photo by Facebook
What are Facebook Podcasts?
In addition to Live Audio Rooms, Facebook is also launching a native podcast feature, beginning with a select group of podcast shows such as The Joe Budden Podcast and Nicaila Mathews Okome of Side Hustle Pro. 
Podcasts are a way for users to interact and listen to podcasts while browsing through the site. People can find creators through their pages or the News Feed. Users will be able to interact with these podcasts through comments, reactions, shares, and bookmarks.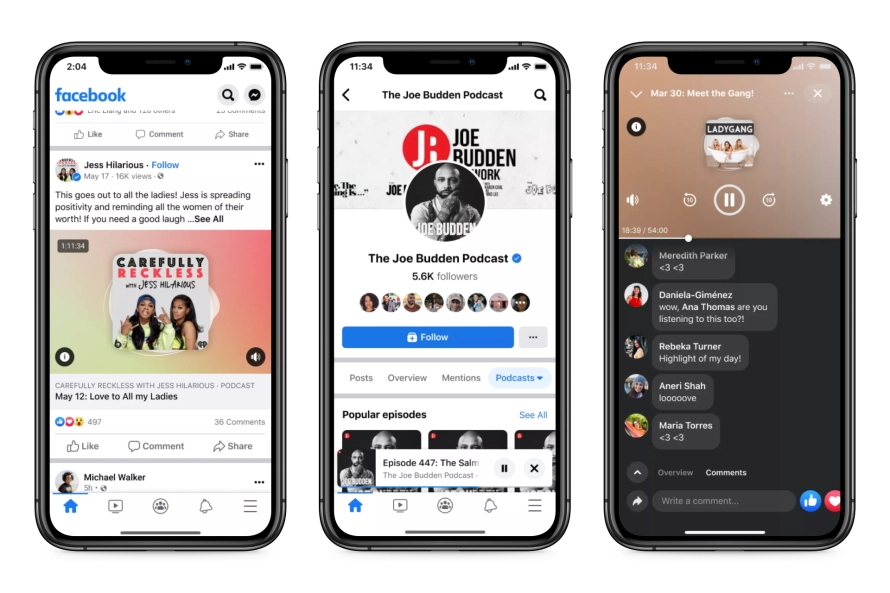 Photo by Facebook
This new addition is not to be confused with the recently launched music and podcasts player in partnership with Spotify. Facebook plans to expand its features for Podcasts in the future by including captions and develop snippets of the Podcasts that can be shared⁴.
Overall, Facebook is showing its efforts in building a greater social environment and experience for its users and creators.
This article was written by Ji Young An & Gavin Mock.
Sources: