[Screenshot by Instagram]
As part of a recent push to boost user engagement, Instagram is introducing two new updates.¹ The first is a "Notes shelf feature" that will appear at the top of the direct message inbox, allowing users to share thoughts and status updates with all their connections. Despite its recent debut, users have noticed similarities between the new feature and Twitter. The notes shelf, which provides an alternative to messaging connections individually, serves as a means for users to prompt further conversations in their inboxes. Instagram's second update is a new ad feature. The platform is toying with an option that will allow users to show ads on their profiles.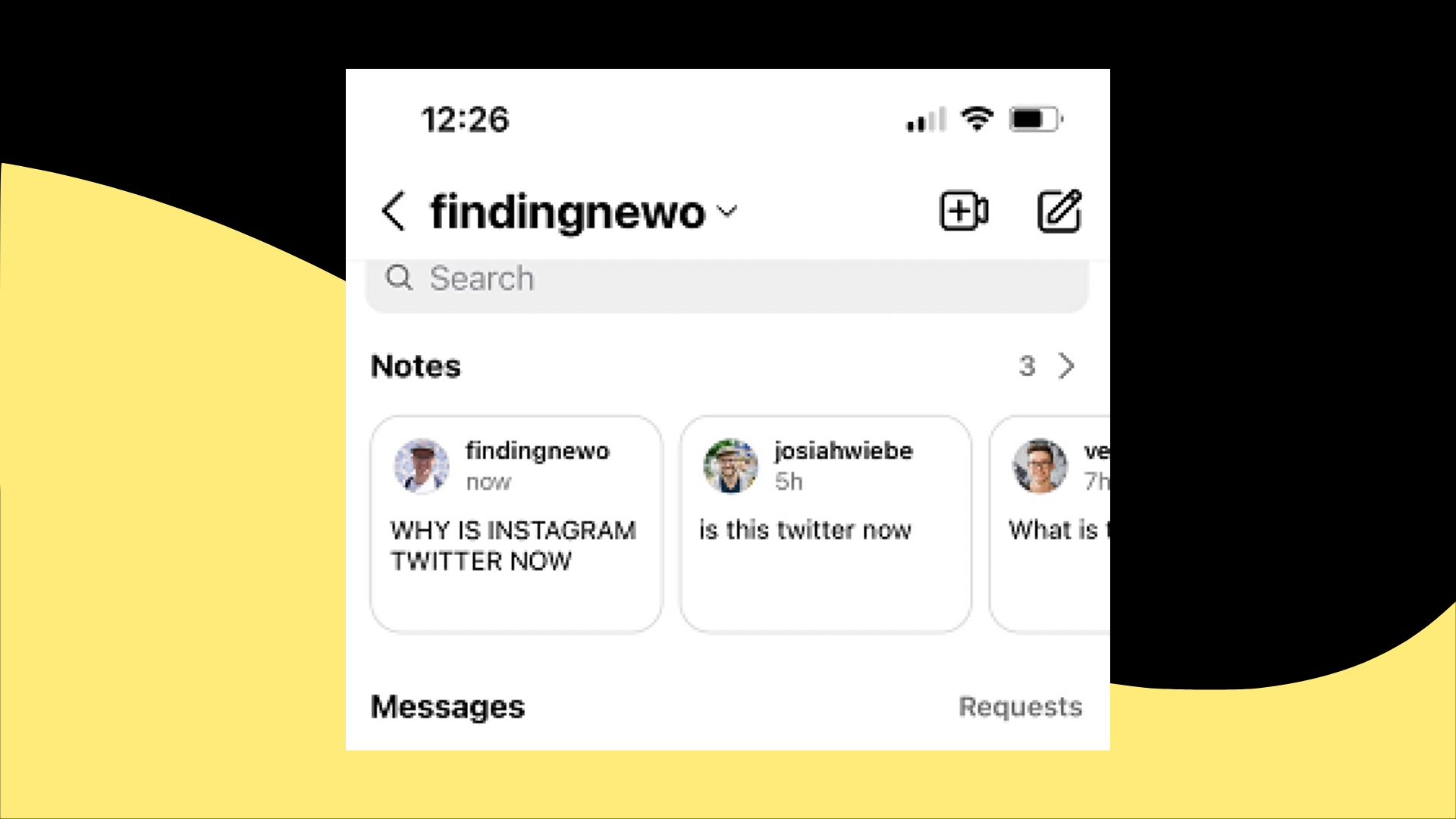 [Screenshot by Instagram]
Announcements for Close Friends
Instagram is testing a new component that may help users stay connected with their followers. The new component added to the Instagram direct inbox includes the Notes Shelf feature. Notes are displayed for 24 hours and serve as announcements for your chosen followers to see. It is clear that Instagram competes with Twitter's already established 'Notes' feature that allows you to post long-form content.² However, Instagram differs by only allowing 60-character long announcements. The motivation behind this update is to allow users to display important messages that they would like to gain more attention than overlooked story posts. All-in-all, adding the Notes Shelf component is another step in connecting with peers and building engagement through the app without having to direct message each person.

[Screenshot by Instagram]
Experiments with Ads on User Profiles
Profile ads are also in the works for Instagram's latest round of updates. Instagram is testing a new ad option that allows users to promote ads through their profile feeds compared to the previous external ad display. The full launch of the Notes Shelf and this ad feature are not set for release yet. But it does beg the question, is Instagram looking to improve its platform or stay in the running against long-term competitors?
When it comes to updates, Instagram continues to adopt features similar to that of other platforms. A notable example includes the introduction of Reels, a short-form video sharing feature similar to the premise of its competitor, TikTok. Instagram's Story feature is also reminiscent of Snapchat. It was highly probable that the platform would eventually draw inspiration from its long-standing competitor, Twitter. 
Written by: Shelby Martin & Kieara Rios
Image design by: Candace Castillo & Sara Freyre
Attributions:
https://www.socialmediatoday.com/news/instagram-tests-new-notes-shelf-in-ig-direct-ads-on-user-profiles/627131/?utm_content=buffer43e20&utm_medium=social&utm_source=linkedin&utm_campaign=buffer