During the platforms' virtual Creator Week event on June 8, 2021, Facebook and Instagram CEO Mark Zuckerberg announced updates that will give creators a Native Affiliate Tool and more ways for creators to earn money and set up shops on Instagram.
What are the Native Affiliate Tool and modified Shops features?
Prior to this announcement, Instagram allowed creators to get involved with brands they promoted or through Shops if they sold their own products.
The new Affiliate Tool will allow creators to discover new products to share with their followers, earning them commissions on resulting conversions without ever leaving the Instagram app.
Users will see a new "Eligible for Commission" notifier at the top of a post, letting them know that this link will help support the creator if purchased.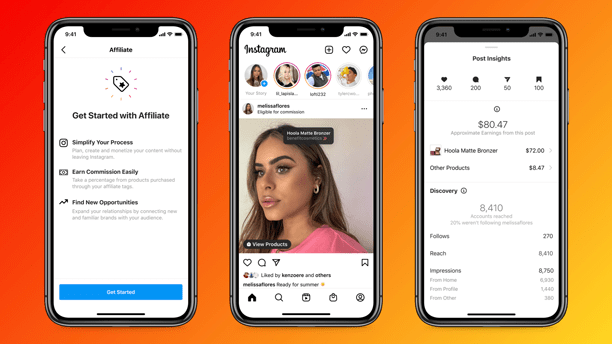 Photo by Instagram
This will help creators gain new partnerships with creators and increase engagement between users and creators since it will easily display the creators' recommended products¹. The test will begin with selected creators and brands including Mac, Benefit, Kopari, Pat McGrath Labs, and Sephora².
In addition to the Native Affiliate Tool, Instagram is also making eCommerce easier by allowing users to set up a new shop with one of their four merchandise partners, Bravado/UMG, Fanjoy, Represent, and Spring, by directly linking through to the supplier instead of having to curate and upload their own separate catalog³. This feature is excellent for small businesses as it will allow a more streamlined process for both the shop owner and the consumer.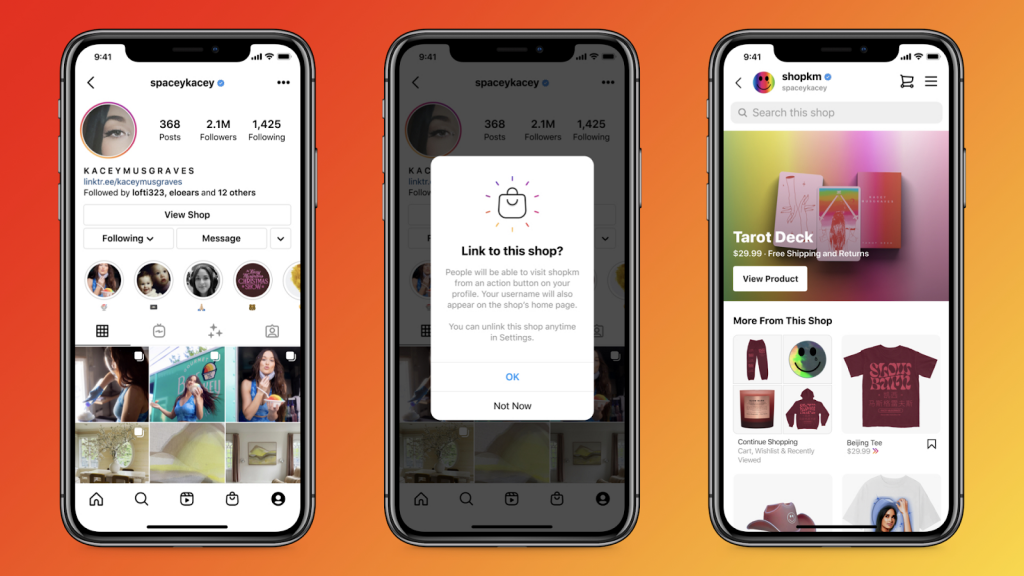 Photo by Instagram
Instagram and Facebook provide new incentives for Badges and Stars
Instagram announced new incentives for Instagram Badges and the Facebook Stars Donation System, which focuses on providing payment options for live broadcasters on the apps. In October 2020, Instagram released the Badges feature, which enables users to tip creators during live streams. Badges typically cost between $0.99 to $4.99⁴. When users pay through badges, creators are more drawn to their comments, and users can use special features.
Now, creators will earn additional funds when they collaborate with another account or reach a certain number of badges during a live stream.
Similar to Instagram, Facebook will also be releasing Stars Challenges. Facebook Stars are the equivalent of Instagram Badges. Just like Badges, if creators reach a certain milestone, such as reaching a certain hour while broadcasting or the number of Stars within a limited time period, they will receive additional payouts.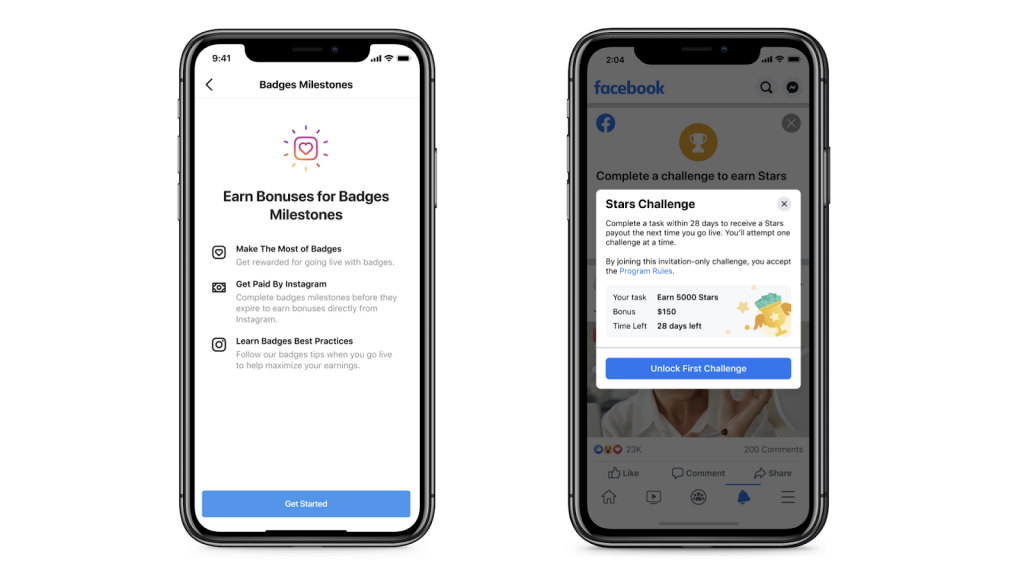 Photo by Instagram
A potential problem with the new affiliate program 
This new feature is great news for creators and the eCommerce industry. However, there is a potential problem that needs to be addressed. There currently is no approval process of some kind in place. This means that a problematic creator or influencer can represent a brand without prior brand approval. 
Instagram has not elaborated on this potential issue; however, hopefully, they will add eligibility requirements or some form of consent to promote the process between brands and creators.
Although the results of the new features are unknown, the creators of these apps hope to extend a helping hand and support businesses and creators. These new features are a great way for people and brands to grow their business and increase engagement!
This article was written by Ji Young An & Gavin Mock.
Sources: